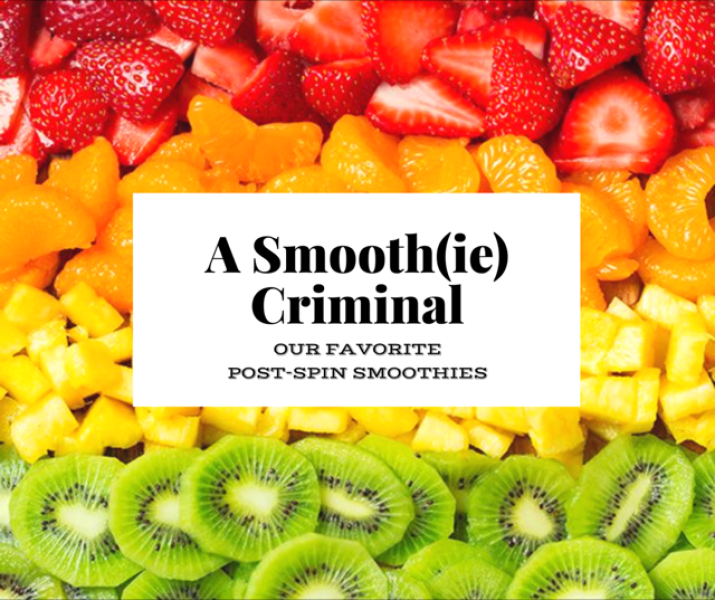 That first sip of water after spin is heaven. Rehydrating and refuelling after a hard workout is important to help you recover, build muscle and improve performance.


When we are blending up our post-workout recovery drink, here's what we're look for:

Protein to repair those hard-worked muscles.
Antioxidants to combat the free radicals released during exercise
Potassium, magnesium and water to replenish the minerals lost through sweat

After you've sweat with us for 50 amazing minutes, it's time to refuel and enjoy one of these delicious smoothies.


Protein Power: Caramel Apple Pie Protein Shake




It's officially fall, and that means it is perfectly reasonable to make a protein shake that tastes like grandma's apple pie. But healthier.


We love this recipe from Dashing Dish because it combines all our favorite fall flavours, it is packed with protein to help repair your muscles and it only takes five minutes to make. And it taste like pie.


Recipe and Photo: Dashing Dish


Antioxidant Release: Black Forest Protein Shake




It tastes like cake. Seriously. Instead of indulging in the calories of a real black forest cake with chocolate cake, cherries, whipped cream...okay, we'll have some cake at the end of the week.


Blend up some chocolate protein powder and cherries, which are rich in antioxidants enjoy fuel those muscles and reduce inflammation.


Recipe and Photo: Daily Burn


Protein Power: Cookie Dough





If apple pie ain't your thing, maybe a protein shake that tastes like cookie dough does it for you. (We obviously love workout recovery drinks that taste that like dessert. But, life is short, so why not?)


Add some vanilla protein powder to milk, maple syrup and a few other ingredients and blend up an awesome post-workout shake.


Recipe and Photo: Chocolate Covered Katie


Vegan Love: Vegan Peanut Butter







Give us a spoon, a jar of PB and a good movie, and we'll be set for a wild night in. {insert emoji}. But seriously, this vegan peanut butter protein smoothie is what dreams are made of. (And you wouldn't even know there was kale in it!)


Take peanut butter, hemp seeds, kale, vegan protein powder and some other deliciousness and recover from your workout with some awesome plant-based nutrition.


Recipe and Photo: The Fit Blog


The Replenisher: Orange Kale Protein Green Juice






Part detox green juice, part protein shake, this hydrating drink not only repairs those muscles with protein, but the citrus fruits replenish the magnesium and potassium lost when you sweat.


Blend kale, orange, spirulina, a few spices, and your favorite vanilla protein powder and drink in the goodness.


Recipe and Photo: Daily Burn


What's your go-to post-workout recovery?



Source: http://www.precisionnutrition.com/workout-nutrition-explained