The Stax Eight:
Inspiring Women in YYC

October is Women's History Month. All over Canada, people are celebrating women who have blazed trails, led movements, created communities and have shaped our cities and our country.
At Stax, we are celebrating, too. We are celebrating by raising An Army of Strong Women (A*O*S*W). That's right - we're raising up all you ladies who sweat with us every single week, bring your energy and positivity and let your light shine.
In the spirit of Women's History Month and an A*O*S*W, we wanted to highlight seven women in our community who have inspired, encouraged and supported not only us, but their families and communities. Here are the Stax Eight.



Jessica Janzen - Love for Lewiston
Why We Love Her: Jess went through unimaginable heartbreak losing her son, Lewiston, to Spinal Muscular Atrophy in November 22, 2016, only a few months after he was born. Even through the darkest moments of this experience, the Olstads found themselves surrounded by community, wrapped in love and strength. Inspired through Lewiston first birthday celebration, Jess founded the Love for Lewiston Foundation which exists to create awareness of SMA, spread love and joy to the community and raise money to fund research for a cure.
Jess is a pillar of positivity, crusader of community, and savant of spin (seriously, this girl can spin!). She inspires and encourages us to get up and "squeeze a little tighter. Love a little deeper and dance a little longer." (Adapted from Love for Lewiston)
Follow:
@jsjanzen

Joelle Tomlinson - CTV Morning
Why we love her: Moving to a new city can be scary, especially when you don't know anyone. But Joelle came here with determination, grit and, shall we say, a little steez. Now, she helps wake up the city with her energy and enthusiasm on CTV Morning Live. Her bold attitude and willingness inspires us to go conquer our fears and try something new.

Hint hint; you'll be seeing more of this babe on the Stax schedule starting next week!
Follow:
@joelle_t

Claire Buchanan - Sweat Science / Vegan Activist
Why we love her: It's no secret that we LOVE The Sweat Science. Claire is the fearless leader of the crew, who is also an awesome social influencer raising awareness of leading a cruelty-free life. When she is not kicking butt in the ring, she's helping people transition to a plant-based lifestyle through her blog Cruelty-Free With Me. We love her principled commitment, passion for a better world for all, and she has a really good left uppercut.


Follow:
@crueltyfreewithme

Jenn Mehalko - Parts + Labour
Why we love her: Jenn is an entrepreneurial and creative genius. In addition to being an interior designer, Jenn is the creator of Parts + Labour, a bold and creative fashion line that styles from the inside out. Jenn exudes a confidence that infectious. Her authenticity is contagious. Her work ethic is a standard above. If there is any one we want to be when we grow up, it's Jenn.
Follow:
@partsandlabour_inc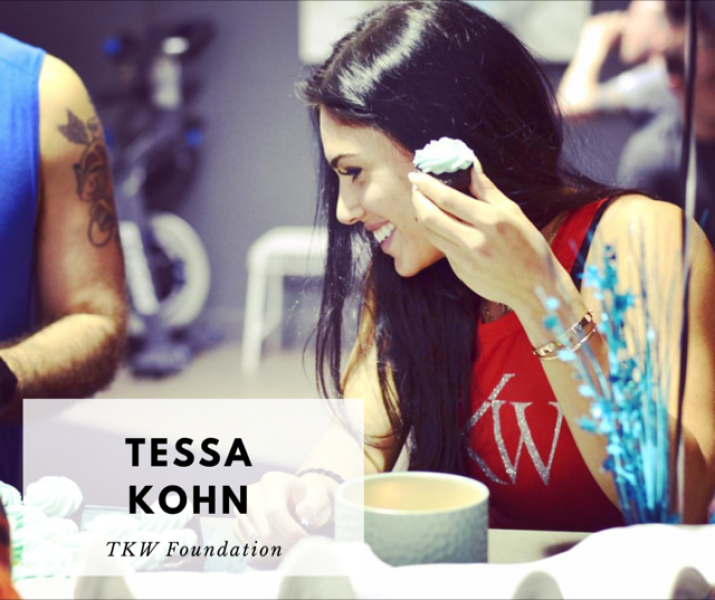 Tessa Kohn - TKW Foundation
Why we love her: When Tessa's sister, Toni, suddenly passed away, she rallied the spin community to organize charity rides to raise money for Toni's House, which helps support women in need. Toni, along with the TKW Foundation helps young women live the best life possible, and Tessa continues to carry out this legacy. We are inspired by her commitment to bring as much love and encouragement to young women in our city, and so honoured to be a part of the TKW Ride 2017.
Follow:
@tkwfoundation

Andrea Scullion - Stax Rider / MEGA babe
Why we love her: One of our longest riders, Andrea rides her ass off in every single class, carries herself with the confidence of Beyonce and spreads her positivity and joy to everyone in and out of the class.
Follow:
@andreascullion

Bonnie Lang - Trainer at City Fit
Why we love her: Pregnant and still squats like she means it. If you spend at time at our studio, you likely have seen Bonnie, the amazing instructor at City Fit. We love this girl because she comes to the gym and kicks butt every single day.
Follow:
@bonnielangfitness

Erin Bogle - Big Girl YYC
Why we love her: Erin launched Big Girl YYC to create a place where women can come together and feel safe attending health and fitness classes in the city without that fear of being judged. We love this community because Erin empowers women to be bold and encourages us that "we are stronger together, regardless of our size."

Erin and her crew are coming in for a private spin class this week, and we can't wait to host them!
Follow:
@biggirlyyc

All month long we are grinding with kick-ass, bad girl theme rides, guest instructors and private rides. Are you ready to join our army of strong women?

Schedule a class today. (First class is free!)