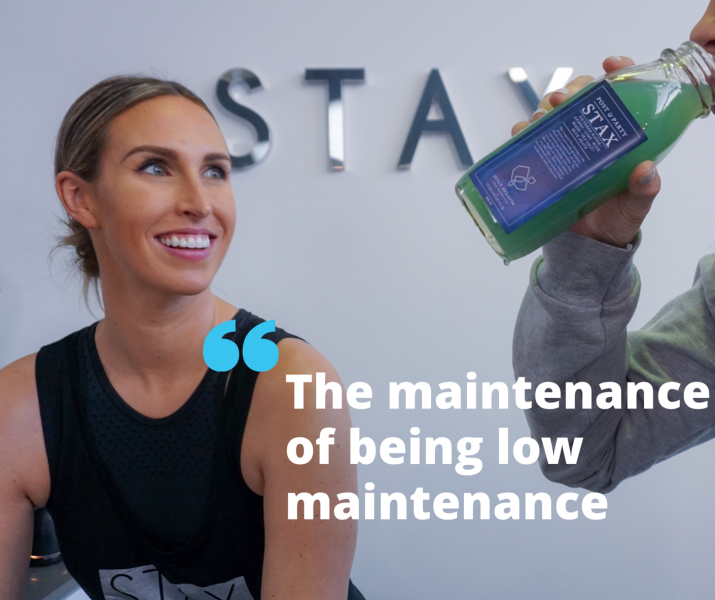 Seriously the struggle is REAL!! And we all love the Queen Bee Beyonce… but she helped none of us when she said "I woke up like this". As if she wasn't setting expectations high enough already?! So now we need to look stylish AF at work, at night, in the gym and wake up looking like a goddess? Well then, now I'm going to need some help!
If you don't already know me, I like to live my life as balanced as possible. What does this mean? I like to get dressed up and go to good restaurants, but I'll also hit the Taco bell drive thru in sweat pants with no bra on. I like staying out way too late and drinking way too much then punishing myself in the morning with a spin class to sweat it out. I like not leaving the house for a full day, but also typically over commit to every social outing possible. I can get down with the latest fad diet, or talk myself into eating whatever my body desires. It's called BALANCE people! Ok, but my point with all of this is that I often can have the desire to make my best attempt at pulling together a reality reunion show look, but most of the time I'm wearing something with an elastic waistband and still want to look as close to a soft 6 as possible. Unfortunately, I don't just wake up a soft 6 as Beyonce would like to suggest. So…. I require some help. The problem is, I spend half my day running around in my post spin class attire, which includes post spin class face; so even if I was the type to do the all day cake face it would have been sweat off by now.
I guess I should stop complaining now and find a solution right? Well I think I have one. A smart women was once quoted saying "they say eyes are the window to the soul, I say eyebrows are the window frame". And I agree! So let's get those windows and frames poppin!!
You can draw on those eyebrows and coat up those lashes all you want, but you will leave your sweat session, a long day at work and a night on the town looking like a drowned rat.
Again you say "quit complaining provide solutions!" Ok, ok I get it! Solution equals microblading. What is microblading? It is a form of semi permanent makeup that applies hair like strokes to mimic natural looking brow hair. It makes none existent brows exist and fills out already there brows. Cause to be honest Bert and Ernie's brows are the object of some jealousy for me currently (AKA the thicker the better)! The best part about this is its semi permanent; cause let's pray this doesn't happen, but just in case those pin thin eyebrows I used to rock back in high school come back in style I won't be the odd man out.
So, one microblading treatment will have your brows looking on fleek for the next 1-2 years! Dope right!! This is sweat proof water proof, Beyoncé approved, and it
will
have you saying "I woke up like this!"
So the frames are taken care of, now let's deal with those eyes/windows. We all have heard about lash extensions. I've done them and they look amazing, but this is the low maintenance maintenance plan remember? And damn do those things require maintenance! I was in there every couple of weeks getting fills and finding lashes all over my pillow case, swearing at myself every time I forgot I had them and rubbed my eye in the night, cause God forbid my eye gets itchy...And when I finally refused to keep up with the expense and time of maintaining them they had damaged my natural lashes so much, I barely had anything left. So the solution: eyelash tint and lift. Tinting has been going on for a while and is great. It dyes your eyelashes cause often times the tips of our lashes are blonde or lighter so we don't to really see the full effect of our lashes. Lifting the lashes is a newer treatment, that adds the type of curl you get from a hand held lash curler. It lasts 6-8 weeks doesn't damage your lashes and is waterproof and everything proof!
Like where has this stuff been all my life?? I've been living my life looking like a 10 at 2am (cause well, beer goggles) and a 2 at 10am. But now I'm a confident soft 6, 24/7, 365! What more could a girl want?
I didn't mess around when it came to getting these treatments. I have a strong believe in the philosophy that "you get what you pay for". So, I didn't go looking for the best deal, I went looking for the BEST (Cause this is my face people)! I did my research and no one in Calgary came with better training, better recommendations or testimonials then
Tina Stephenson
from Cosmetic Medical Fine Art Tattooing. She has now done my brows, my mothers, my sisters and about 5 other friends. Everyone
with amazing results. She is so precise about making sure you get exactly what you want, and believe me when I say, not a single stroke goes on your face before every detail of the penciled outline has been approved by you.
Tina will have you waking up, leaving spin class, hitting the streets ready to impress without having to lift a finger. Now can someone just create a solution so I don't have to do my hair?
- Katie