Jess E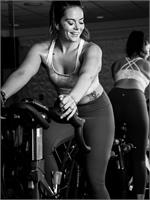 Jess E instructs the following:
Our most savage ride yet. 60 minutes on the bike focusing on high intensity tracks for maximum calorie burn. Class includes 2 weight tracks along with a focus on wattage and cadence.
Saturday 8:15am - all levels welcome!




50 minutes of our classic Stax 50 + an OPTIONAL 10 minutes of deep stretching in our studio to relax muscles, benefiting performance by enhancing recovery and retaining flexibility #balancebaby!