Jess E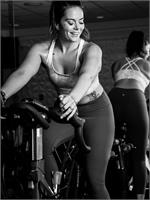 Jess E instructs the following:
Exhilarating 40 min session with a 5 min cool down. Perfect for those on the go. What you can expect is to be up and out of your seat often, powering through sprints and climbs. Motivational music that will inspire you. We ditch the weights and keep the cardio bumping. What really draws you in to these classes, is our group atmosphere! Instead of just racing through the motions during your lunch hour....we encourage you to push yourself towards new goals and break new boundaries!




50 minutes of our classic Stax 50 + an OPTIONAL 10 minutes of deep stretching in our studio to relax muscles, benefiting performance by enhancing recovery and retaining flexibility #balancebaby!