Hailey C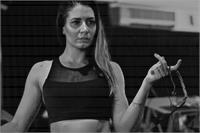 Hailey C instructs the following:
Our most savage ride yet. 60 minutes on the bike focusing on high intensity tracks for maximum calorie burn. Class includes 2 weight tracks along with a focus on wattage and cadence.
Saturday 8:15am - all levels welcome!




Stax 50 - It's time to get lost in the rhythm of a hot new playlist, and we are here to deliver the ride you crave. Stax 50 is all about providing a high intensity, fun workout in an environment where our instructors are most creative. We motivate through our language and feeling descriptors and always ride to the beat of the music. Trap, Pop, EDM, Rap/Hip-Hop & Bounce...we play it all, so be prepared for a party on the bike with plenty of dirty drops and heavy bass. All Stax 50 classes include a weight track, full body choreography & safe upper body movements.