Steph Y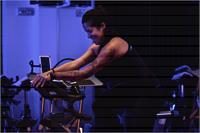 This fit chick could school the energizer bunny with her electric personality & high intensity tracks on the bike!
Steph Y instructs the following:
Stax 50 - It's time to get lost in the rhythm of a hot new playlist, and we are here to deliver the ride you crave. Stax 50 is all about providing a high intensity, fun workout in an environment where our instructors are most creative. We motivate through our language and feeling descriptors and always ride to the beat of the music. Trap, Pop, EDM, Rap/Hip-Hop & Bounce...we play it all, so be prepared for a party on the bike with plenty of dirty drops and heavy bass. All Stax 50 classes include a weight track, full body choreography & safe upper body movements.




All the feel good jams to top off you week, followed by beers from our friends at Mill Street!




Exhilarating 40 min session with a 5 min cool down. Perfect for those on the go. What you can expect is to be up and out of your seat often, powering through sprints and climbs. Motivational music that will inspire you. We ditch the weights and keep the cardio bumping. What really draws you in to these classes, is our group atmosphere! Instead of just racing through the motions during your lunch hour....we encourage you to push yourself towards new goals and break new boundaries!